In continuation with my
previous post
, here is Part 2 of how I changed while living in Korea.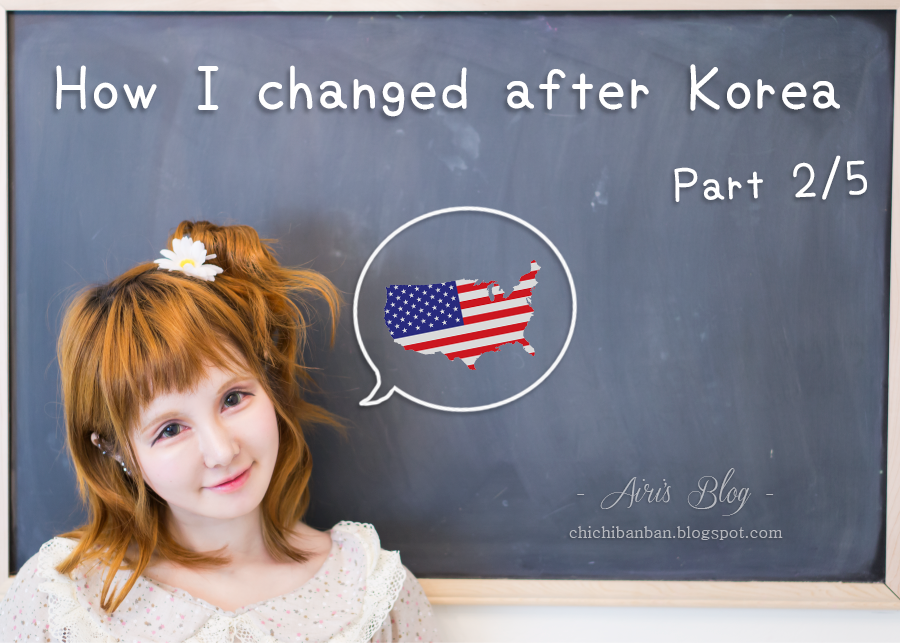 -- 1. I prided in my American citizenship.--
I've mentioned
before
that Americans are, in general, treated very well. Koreans are both fascinated and a bit intimidated by them—their assertiveness, their physical dominance, and let's not forget, English. I noticed this early on after seeing people's faces light up when I told them I was from America. "Oh, Migook! Migook migook!" or "Oh~~ AMELCIA!!"
But the thing is, I'm not the typical "exotic" foreigner (tall, light hair, light eyes, sharp bone structure.) People didn't know I was American; they usually just assumed I was Korean, albeit a little different-looking. And if it became obvious that I was slow to understand, they then assumed that I was a
mentally disabled
Korean. Or just really dumb. (My guess is that I was good enough at imitating the accent and intonation that they didn't think I could be foreign?) But as you can imagine, a lot people weren't as nice when they thought I was slow in the head. There have also been times when people thought I was a Chinese or Japanese national. And while the latter isn't so bad, it still felt better to be American.
So after that, I made it a point to play up my American nationality. I tried to mention it early on in conversations. I put in the extra effort to speak perfect English and feign "American assertiveness." At times, I even played the part of the bitchy foreign customer—point at something and say bluntly, "I'm not happy." (This was taught to me by my Canadian friend.) I didn't do it often, only when I felt that the other person was going to treat me badly if I didn't (because there are a lot of really rude workers in Korea.) And...it worked. People listened more. They didn't just shoo me away like they usually did.
It's a cheap tactic, and I'm not proud of it. But in the moment, I just wanted to do anything I could to avoid unnecessary bad experiences. And in my defense, it wasn't that I refused to learn about Korean culture or assimilate to their way of doing things. I hope people can see by now that I was definitely not that kind of foreigner. Rather, I already knew about discrimination in Korea (whether it be for race or other things), and I just didn't want to put up with it more than I had to. And overall, these experiences made me realize how strong USA's brand power is.
-- 2. I became snooty about English. --
English is
very
important in Korea. There is an enormous emphasis placed on learning English.
In America, we don't make a huge fuss about someone's English being good or bad, so long as we can understand them. There are so many immigrants and people with accents that it rarely occurs to us to comment on someone's English ability, let alone insult them for it. But in Korea, "bad English" is a bigger deal. People bring it up all the time. They constantly make self-deprecating comments about their "bad English", make fun of their friends who also have bad English, and then ooh and ahh at the friend who
does
speak English. "Bad English" is much more relevant in Korea than it is in America.
You see this in TV shows, too. If an English-speaking guest comes on, the hosts may ask him/her to speak English. The entire audience will then ooh and ahh and everyone will be so, so impressed. The hosts might comment about how good it sounds when they speak English. Host 1 may even try to converse with the guest in English before backing off shamefully, while the other hosts laugh and criticize his broken English. The audience will then follow along laughing at Host 1's pitiful attempt, and afterwards, the editors will even add sweat marks or little comments to poke more fun at his bad English. Now, take those hosts and change them into a group of friends. That's basically what happens in real life.
Yet, with everyone trying to learn English in Korea, few people actually succeed in being able to use it. Most people have substantial accents, mix up grammar, and have difficulty speaking smoothly. And although this is completely normal for their second language, it causes a lot of people to cower down when it comes to using English in real life. This brings us back to what I said earlier about English being intimidating—a lot of people shy away and grab their coworker instead.
Everyone wants it, everyone tries, but only a few actually get it. Knowing English kind of feels like power. The people who don't know it are subdued to making self-deprecating comments and always wishing they spoke better, while the people who do are privy to good jobs and appraise.
Well...I speak English. I speak native level English. And against everything I was struggling with in Korea—my different clothing, my different face, added to my passive/childish personality which got me often stepped on—English was one thing that I could cling onto, just like my American citizenship. So I jumped on the English bandwagon.
You could feel the difference whenever I spoke English. People became shy and soft-spoken. It's like they backed off. It may not have been real respect, but it at least felt certain that they weren't going to be mean—because they couldn't; they couldn't fully express themselves in English. And it was also nice to finally ward off the cosmetic store workers for once, since they usually only speak Chinese or Japanese. But gradually, my use of English evolved to more than that. I became haughty. I began to judge people for their English ability. Because it's one thing to speak English, but another to speak it natively, with the oh-so-great-sounding American accent. NS Yoon G, for example, despite being fluent, has a noticeable accent in this video:
Go to 0:29

...An accent that strong after spending all that time in America? And she was a UCLA student...Really?
Tiffany and Jessica from SNSD also have distinct Korean American accents.
Considering they were
born
in America, why is their English so bad? Their English should be way better.
First, let me apologize to any Korean readers I offended with those statements.
I take them back right now! It was really bitchy of me to even think those things, and I'm embarrassed to publicly admit that I got to that point. (And ironic, considering that even I don't speak properly unless I try.) I'm not normally like that, which is what I'm trying to say: I changed in bad ways, too. Something about the experiences I had in Korea brought out the worst in me. Being alone and constantly being mocked for my different appearance (both clothing wise and sometimes just facially) was frustrating and confusing. I didn't expect people to be so rude there. And on top of that, I was getting bullied at work, which was a big one. It was miserable. Getting crap at work, crap whenever I went out, and then more crap from online haters...I was in a bad place. I felt vulnerable, and my reaction was to use those behaviors as my self-defense.
Thankfully, these changes only lasted a few months; I'm back to normal now! After removing myself from those circumstances, I was able to clear my head of all that nonsense. I wasn't like that before I went to Korea and I'm not like that anymore. :3
And although I say that "Korea brought out the worst in me", I am not blaming Korea. Yes, Korean society is high pressure in many ways, and yes, everything I said about Americans being treated well or English-speakers being revered is true. But in the end, everyone has control over their own actions. Those were my quick defenses (which I'm not proud of), but I'm sure that if I had stayed longer I would have found my own balance eventually. Coincidentally, I happened to leave around that time.
Moral of the story:
If I could go back in time and do things differently, I would have studied hard to become fluent in Korean
before
going to Korea. This is relevant to me because 1.) I pass as Korean, hence granting me no leniency whatsoever. And 2.) because I am shy, passive, and sensitive. I'm the type of person who gets bummed out easily when people are mean. If I had just spoken fluent Korean, I could have probably avoided a lot of rude encounters and the above two from happening. So I recommend this for anyone who is similar to me in those aspects and planning to live in Korea long-term: Whether you're gyopo or just look similar enough to pass, if you also happen to be shy and sensitive, study Korean before going!
Thanks for reading! And don't hate me! ><