After a long week of work, I got off early today (Friday) and meandered downtown! I needed a notebook for studying Korean, so I also went to Artbox for the first time. Artbox is a Korean brand/store that sells lots of cute random little stuff: notebooks, lamps, umbrellas, stationary, keychains, stuffed animals, etc. Kind of like Iswas, I think!
Now this
*is*
a very long, picture-heavy post, but I took every single picture here with
you
in mind, so I hope that you actually
enjoy
and
*absorb*
all the cutness that I tried to capture! So please take your time! It would make me sad if you just skimmed through all the pictures without paying much attention! ㅠ_ㅠ
Let's begin the tour! Here is the entrance: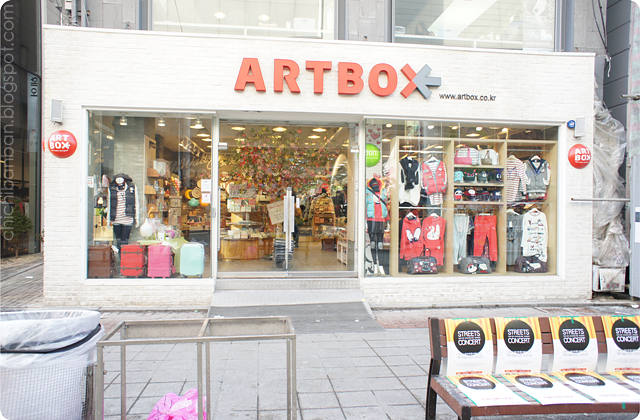 To be honest, I much prefer this picture with the lady in front of it!
To me, seeing actual people in the picture makes it so much more alive and real, rather than it just being some static place~
When you walk in, you are greeted by this big tree decorated with paper hearts:
To the left of the tree are the notebooks: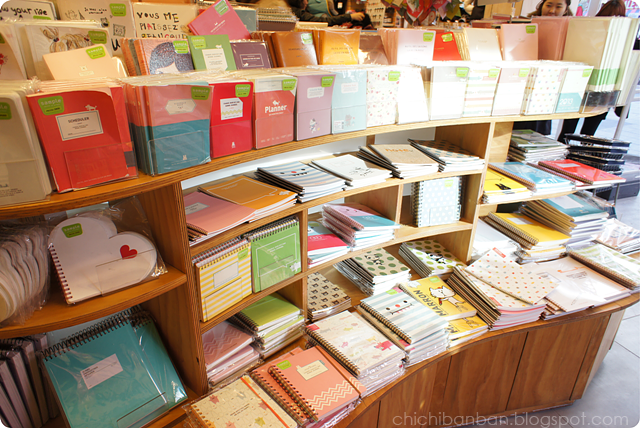 (As you can see, most of them are pretty simple designs.)
If you turn to your left, you see a wall full of clocks!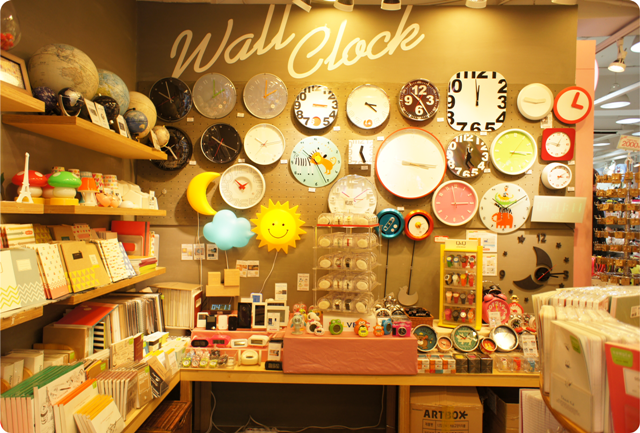 (On the left are more notebooks, some globes, and mini desk-lamps.)
Now, had you had turned right at the entrance, you would have gone towards this wall of bags and backpacks: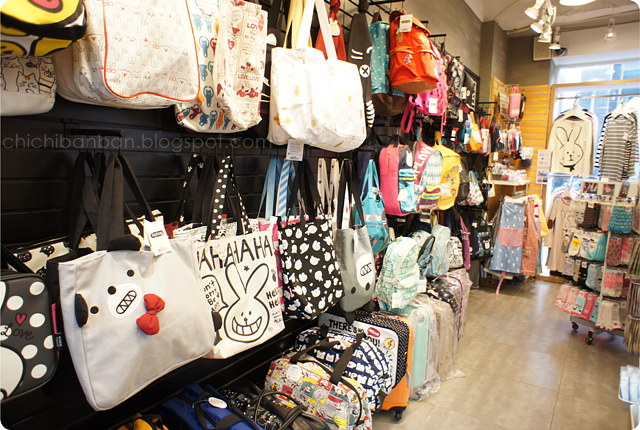 ▲You can't see it, but in the corner on the very right (right next to the bunny t-shirt), they were also selling underwear! 6 bucks a piece, if I remember correctly.
Right in front of this wall of bags is a big stand for bath-related stuff:
▲ At the top you have headbands, animal toothbrush holders, and toothbrushes. Next to the lollipops are little scrubbers and bath poufs. At the very bottom, to the right, are blue bath slippers!
Are you curious what the lollipops are? They're foot scrubs!!! Isn't that adorable?!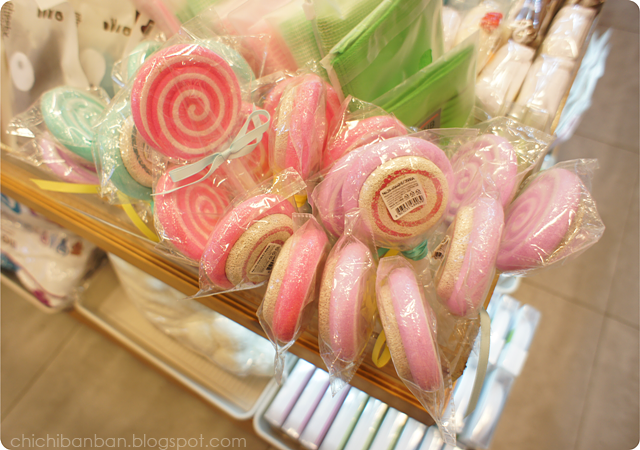 So far, we've only covered the entrance area! If you venture further into the store, right across from the cashier are these pencil pouches/cases: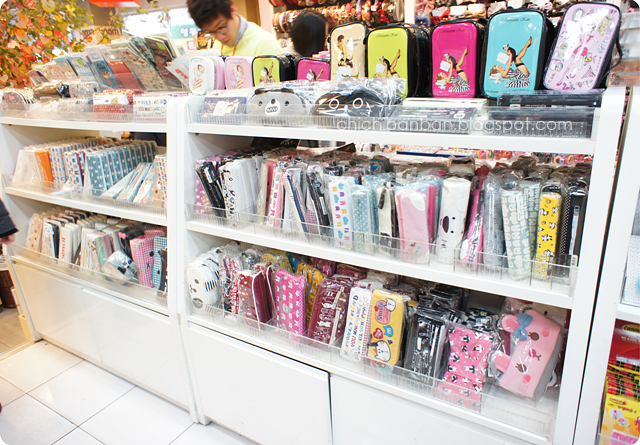 The guy in yellow is a worker, busily stocking shelves~
Behind the pencil pouches is an entire wall of little accessories:
▲ From right to left: cell phone cases (mostly solid colors), electronic accessories, keychains, and hair accessories
In America, our earphone cable wrappers are colored fish skeletons, at best. But look at these cable wrappers! Cats, cat paws, carrots, a giraffe, a crocodile, and even mini plushies! ⊙▽⊙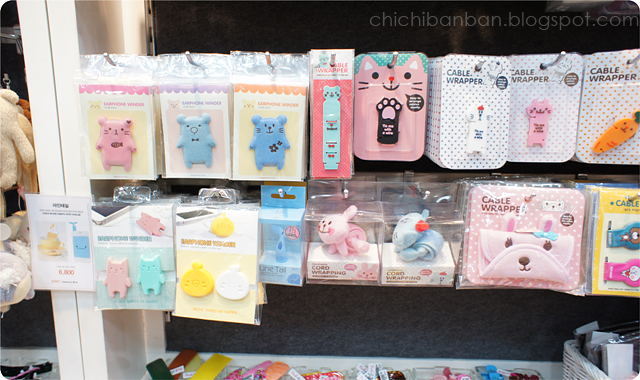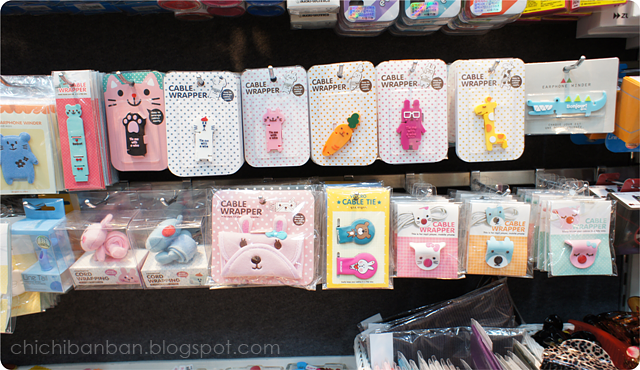 Under the cable winders are an assortment of hair clips: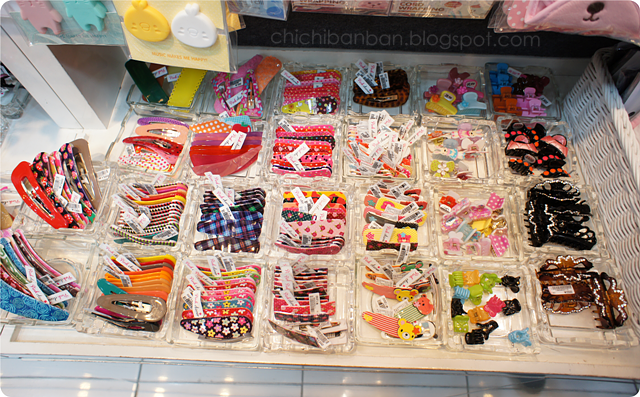 Moving to the left, we have keychains! At the very top you can also see some ear jacks: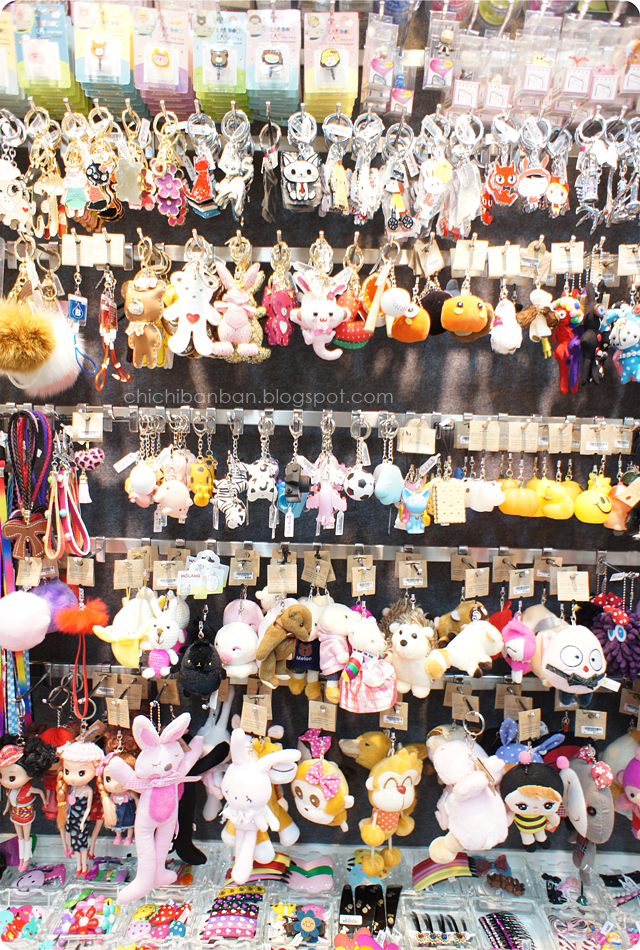 And here are some more keychains: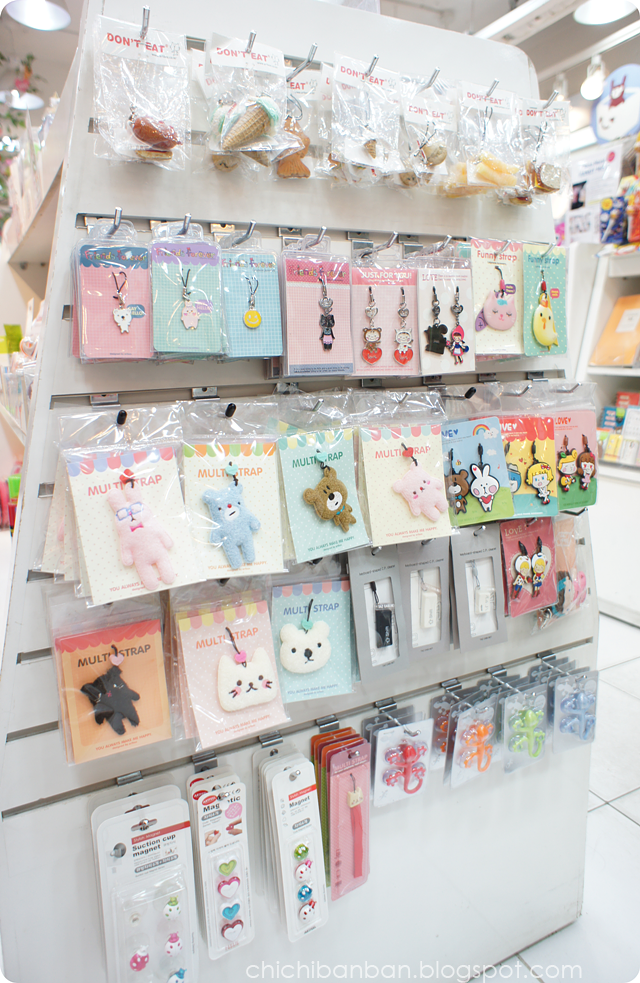 Lets move onto stationary! There were two stationary-related stands, so here they are in no particular order:
Pens and highlighters:

(There were a lot more pens next to these, but they weren't cute at all!)


Deliciously cute calculators! I wanted to get the ice-cream one >.<




Two-tone pens: Press one ear and you get black. Press the other and you get red!



Can you guess what this is? It's tape! So cute...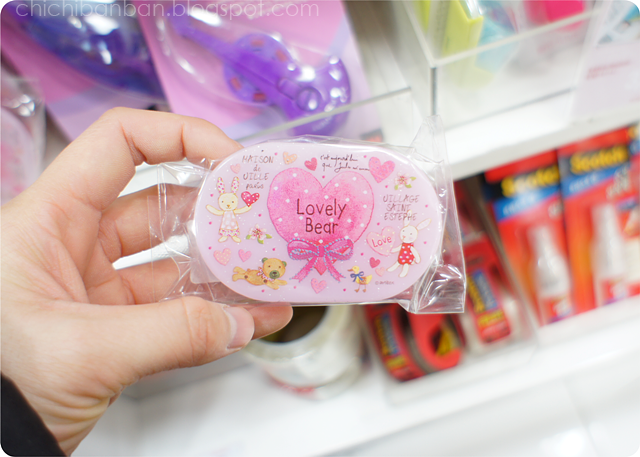 Post-it notes in the shape of long skinny animals: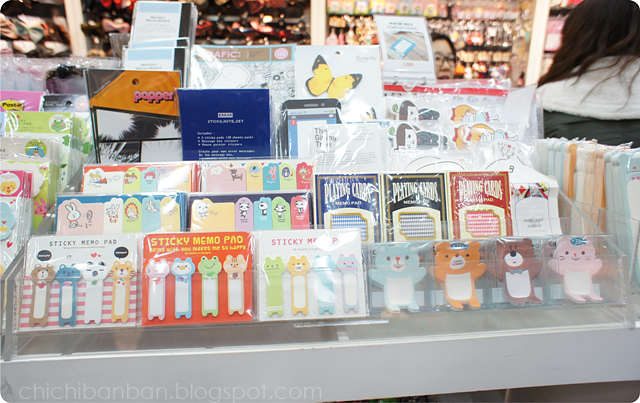 Doesn't it make you want to take notes? (>y<)
Here's a view of one of the stationary stands. You can also catch a glimpse of the store setup here!
Top left: manual paper shredders! | Top right: random little pens, boxes, notepads
Bottom left: folders | Bottom right: cell phone holders
Closeup of the cell-phone holders: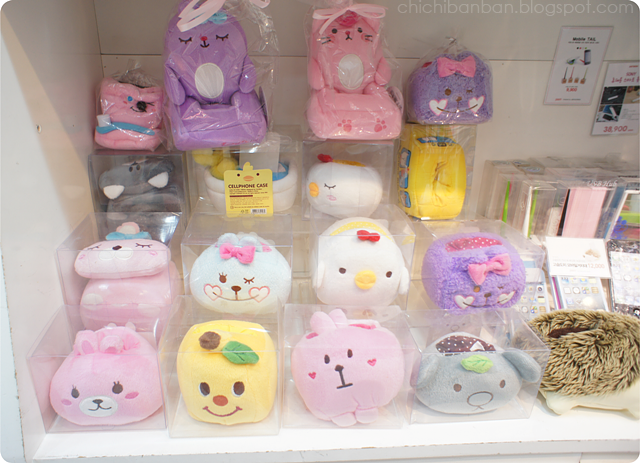 Some wrist cushions (top) and mousepads (bottom:


Can you spot the egg yolk cushion in the top right? :D
This is my favorite. Look at this delicious, adorable USB hub! There was even a strawberry one too! (It's 15,000KRW btw~)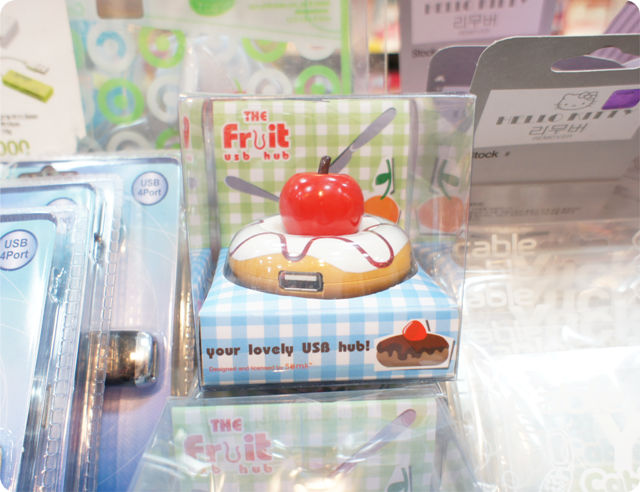 Now let's venture
even further
into the back of the store! Here is the gift-wrap corner:
There is also a stand full of boxes: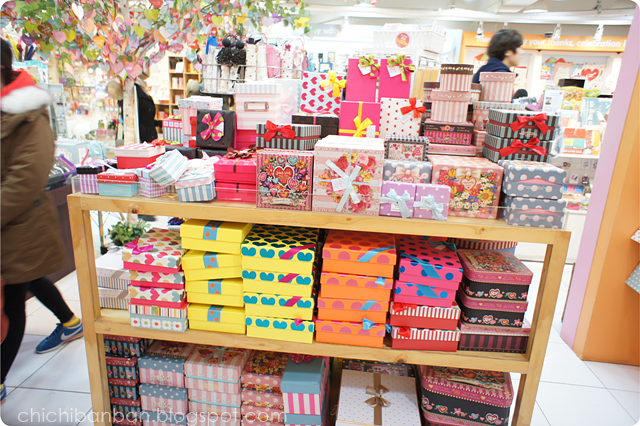 Psst...notice that girl's shoes on the bottom left? Shoes like that are VERY common here!
They also sell candy right next to the gift-wrap: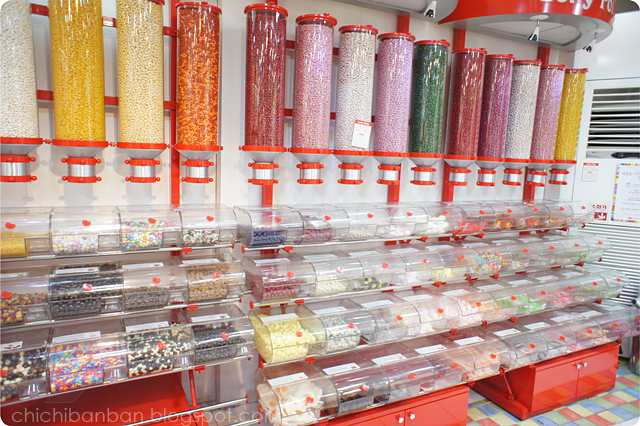 I was totally not expecting this much candy in a store like this!
Next to the candy corner is an electronics stand and another tree. It's got headphones, keyboards, mice, lamps, etc:
(And a Korean girl in the background!)
I love the sleek-yet-cute look of these keyboards:
I almost bought the pink one, but the space bar was too small for my liking. So sad! :'(
Here are the lamps, omg! Look at that blissful little giraffe in the back, heehee~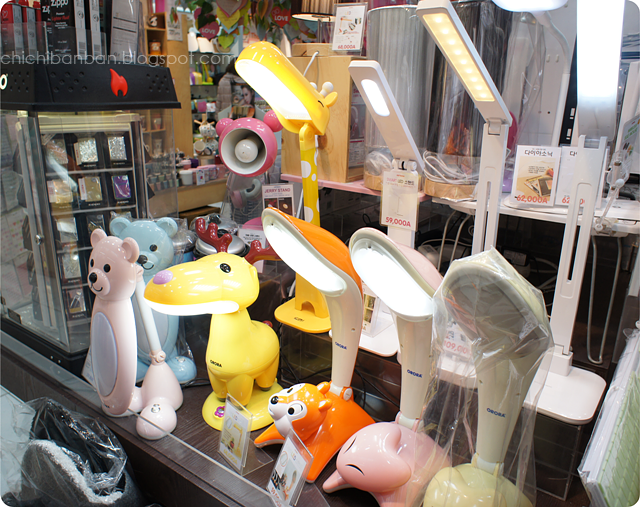 Turn to your left and you have a wall full of cushions, pillows, and stuffed animals!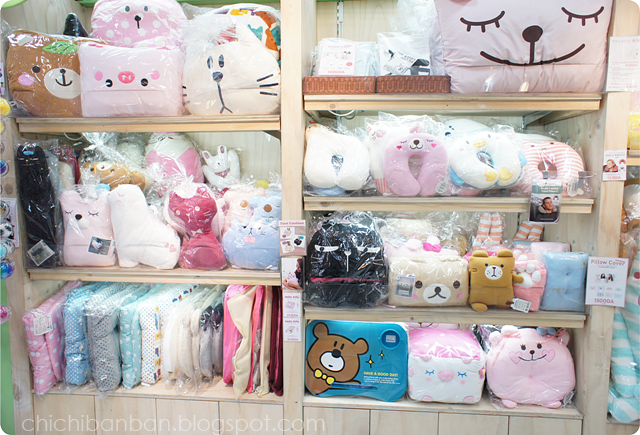 In the bottom right, you can see some big stuffed animals on the floor: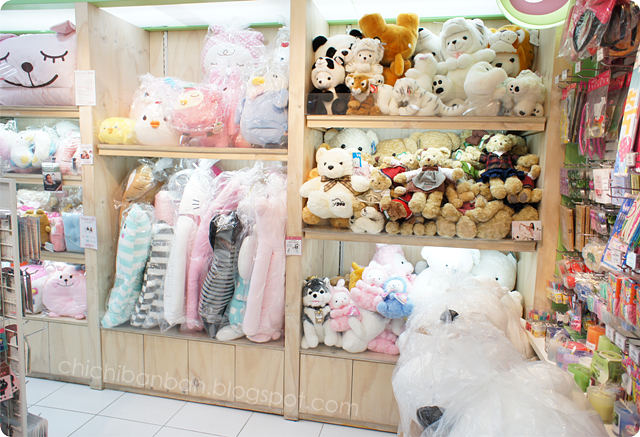 Did you also notice that the stuffed animals on the top right are in costume? ∩_∩
There's also a stand for plants! On the top shelves you can see some kits packaged like frappuccinos: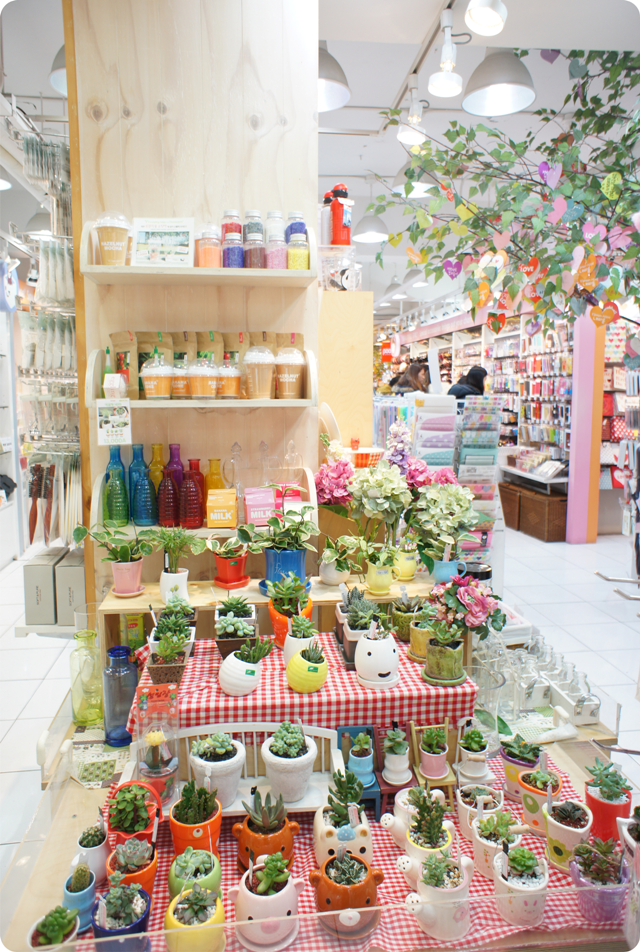 On the other side of the plants are the cups: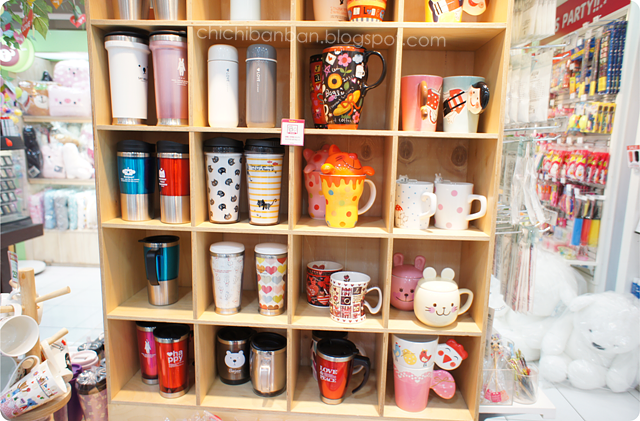 Did you notice the handles on this one?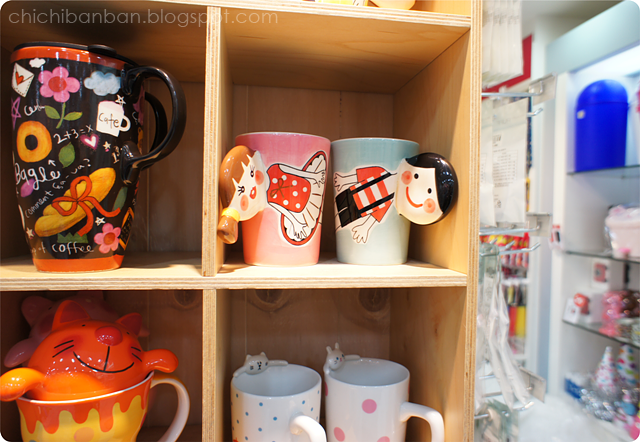 I love the cups on the bottom! Almost got the peeping kitty one!
And last but not least, here are some grooming tools! On the top you have panda ear pickers. Then from left to right you have nail files, tweezers, and scissors: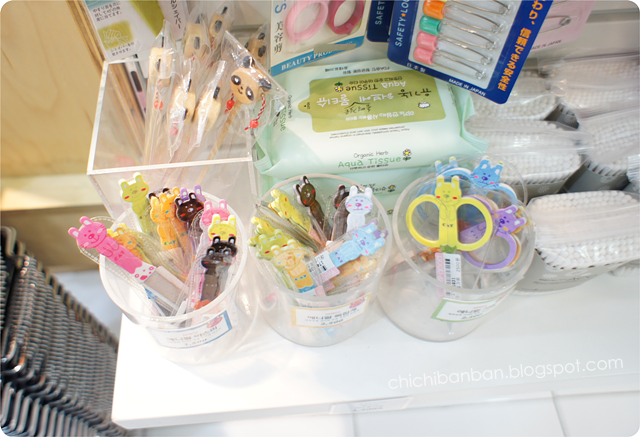 Sooo cute~
This is what I ended up buying! It came in a cute little bag (after I asked, since they don't really give you bags here unless you ask/pay). Luckily, I didn't have to pay for the bag this time! :D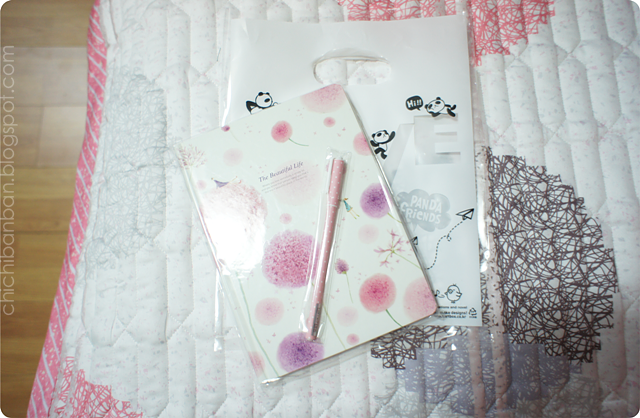 Pen: 1,000KRW | Notebook: 6,500KRW
Oh, also, on my way to Artbox, I also passed by Etude. There was a pretty girl leaving the store ∩_∩
The Etude sign looks so magical when it protrudes like this: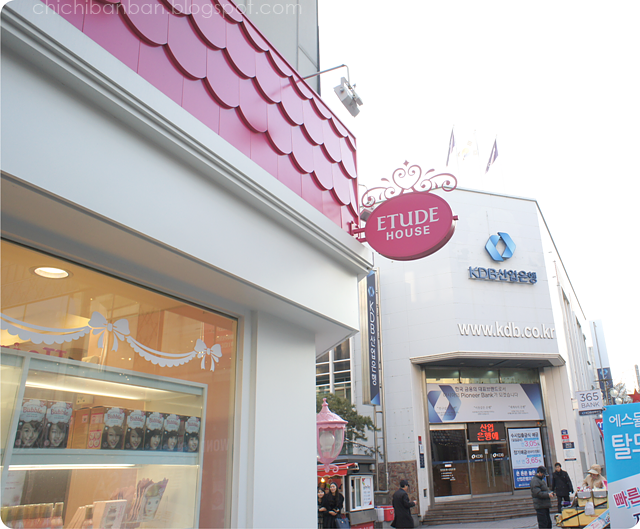 But, I have to say that this lamp is my favorite part. Just look at it! Simply magical!

On the side, you can see people selling street food!
And here you can get a peek into what the store(front) looks like: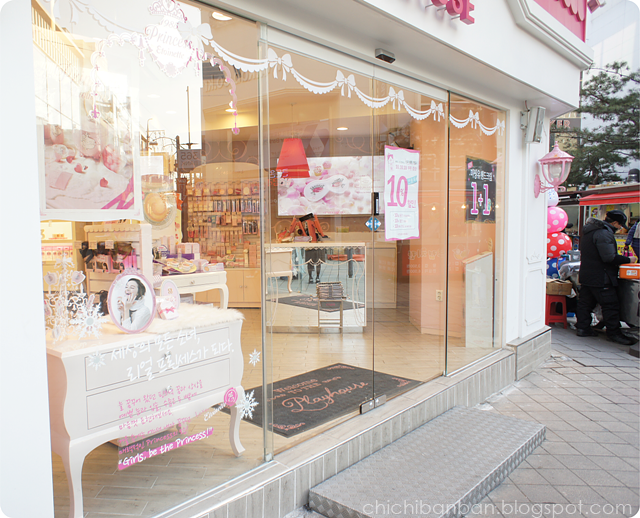 Thank you for enduring and reading! What was your favorite picture/item? What would you have bought? ^^